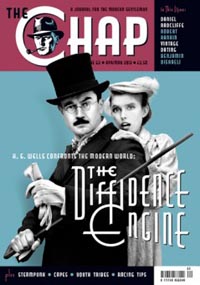 My first post far from the Earth! I took with me many books and magazines I will mention them once in a while, and I wanted to start with the April/May 2012 edition of The Chap Mag.
About The Chap: The Chap takes a wry look at the modern world through the steamed-up monocle of a more refined age, occasionally getting its sock suspenders into a twist at the unspeakable vulgarity of the twenty-first century. Since 1999, the Chap has been championing the rights of that increasingly marginalised and discredited species of Englishman – the gentleman. The Chap believes that a society without courteous behaviour and proper headwear is a society on the brink of moral and sartorial collapse, and it seeks to reinstate such outmoded but indispensable gestures as hat doffing, giving up one's seat to a lady and regularly using a trouser press.
They organize many events such like the Chap Olympiad and they participate to many events. When I will back on Earth, I have to go to London and meet with them!
Anyway. Here is what you will read about in The Chap's April/May 2012 edition – Issue #62.
• Cover story: we sent two time travellers on a journey to modern-day Bromley, birthplace of H.G. Wells
• Interview: Robert Rankin, thrice marrried (to the same lady) eccentric steampunk author and raconteur
• Full Steam Ahead: the continuing rise of Steampunk as a subculture
• Gambling: our new Turf correspondent on how to pick a winner at the Grand National
• Brief Encounters: Fleur de Guerre's brand-new matcmaking column, with personal ads from lovelorn chaps and chapettes
• Benjamin Disraeli, the dandy prime minister of the Victorian age
• Cricket: Steve Pittard lchronicles some of the game's silliest injuries
• Biography: H.G. Wells, the grandfather of science fiction
• The Bon Vivant: Neil Ridley investigates some pyrotechnic cocktails
• Grooming – our expert in the bathroom on how to shave with a safety razor
• The Lip Weasel: Michael "Atters" Attree's new moustache and paranormal column
• Youth Tribes – Donald Twain assesses young people's attempts to cut a dash
• Lapse of Panache: Daniel Radcliffe vs Sydney Greenstreet
• Capes and Cloaks – the history of these noble gentleman's coverings
• Mr. Bell the Butler dishes out sound advice on sunglasses, trousers and death
• Eccentric Emporia – curious shopping destinations for Chaps
• Plus: Am I Chap?, Chap of the Month and news of the Chap Olympiad 2012