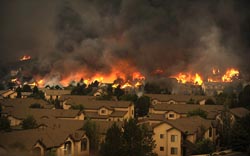 Reuters just mentioned authorities have found a second body in the debris of a burned-out home in Colorado Springs, marking the second fatality from a fierce wildfire that ranks as Colorado's most destructive on record after incinerating 347 homes, police said.
I may not have a foot on Earth but I know an estimated 18500 acres were burned and hundreds of people forced to flee their homes… On the left, homes in Colorado Springs (AP Photo/The Denver Post, RJ Sangosti).
How do I know that , besides the fact I read the news like everyone else on Earth? Well, I can actually see Colorado Springs fire from Space!
I don't have a camera aboard the Sama Airship but there is one aboard the International Space Station and it captured a footage of the wildfires burning in the Western U.S., including Colorado.
I can't even imagine the disaster on the ground…